QUICK OVERVIEW

Roofing Materials Compatibility
Standing Seam Metal Roof

Cedar Shingles/Shakes with VaproMat Drainage Matrix

Slate Roof

Tile Roof

Metal - Class A roof assembly with 1/4" thermal board
Tile - Class A no thermal board
SlopeShield Plus SA

SlopeShield Plus SA protects mass timber from bulk water intrusion and concurrently dries mass timber through moisture vapor diffusion.

Taped Splines

Alternative protection such as taped splines will leak and less durable lower perm sheet goods offer little to no drying capacity resulting in water damage and mold.
Learn More About Mass Timber Moisture Protection Strategies
Revolutionary Roofing Underlayment
SlopeShield Plus Self-Adhered's high drying capacity and black coloration (which absorbs heat from the sun when exposed during construction), accelerates the drying process of the underlying materials.

This combination helps to mitigate construction moisture which would otherwise be trapped by a non-permeable roofing underlayment.
Complete Roof and Wall Water Resistant, Vapor-Permeable Air Barrier System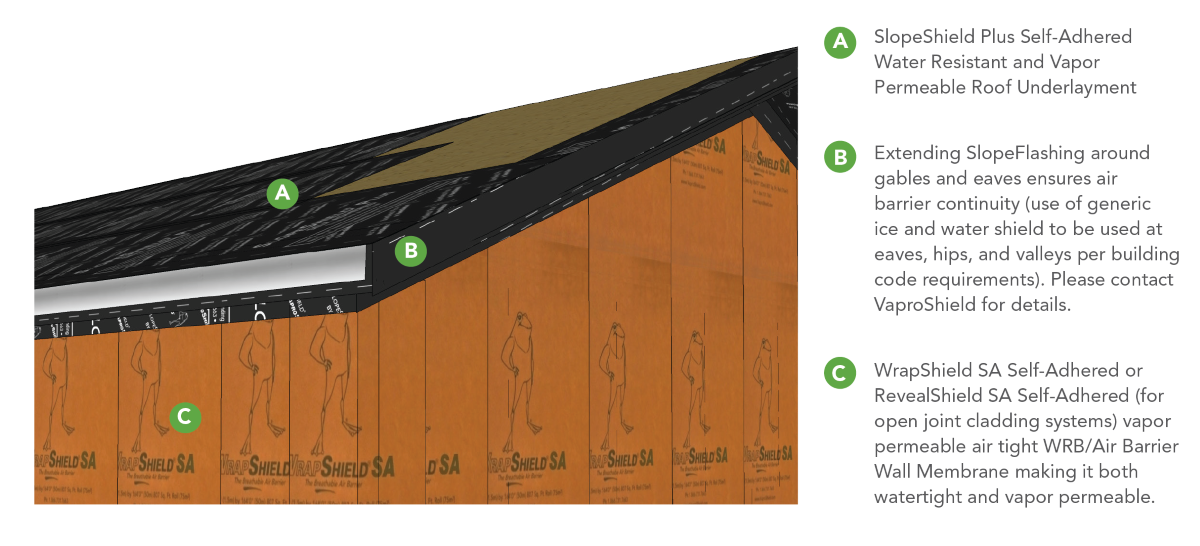 Combine SlopeShield Plus SA and VaproShield's WRB/Air Barrier membranes to create an airtight, watertight, BREATHABLE building enclosure; mitigating moisture damage and saving energy for the life of the building.
Compatible Roof Deck Substrates and Applications
Gypsum/Fiber Roof Sheathing Boards
Rigid Insulation
Concrete
Plywood

Mass Timber
Pre-painted Steel
Galvanized Metal
Aluminum (Painted/Mill Finish)

Compact roof decks with rigid insulation
Steel decks
Plywood and wood decks

*For OSB and OSB factory-coated products

contact VaproShield Technical.
Approvals and Certificates
Resources
Roofing Underlayment DIV 7 Specs
Water Barrier Protection for Mass Timber DIV 6 Specs
Moisture Protection for Mass Timber DIV 1 Specs
Related Products