QUICK OVERVIEW
A highly vapor permeable roofing underlayment Air Barrier (AB) material
Used on Steep Slope Roofs Of 2:12, (9.46 Degrees) or Greater Pitch
Promotes Long Term Drying of Roofing Assembly Through Vapor Diffusion
Breathable and Airtight, with Exceptional Water and Air Holdout
Primerless Installation
High Drying Capacity (Vapor Permeability, 30 Perms)
Long exposure times, 6 months (180 days) UV and Climate Exposure Prior to Roof System Installation
Tough, Durable, and Slip Resistant—With Excellent Traction for Installers
Factory Made Rolled Good with Consistent Millage Thickness
Suitable for All Climates and Geographic Locations, Including Extreme Temperature Areas
20 Year Material Warranty
Roofing System Compatibility
SlopeShield Plus Self-Adhered roofing underlayment can be installed under a variety of roofing systems including:
| | | |
| --- | --- | --- |
| Standing Seam Metal Roof | Cedar Shingles/Shakes with VaproMat Drainage Matrix | Slate/Clay Tile with Batten/Counter-Batten Substructure |
Engineered with Vapor Permeable Polymer Composite Technology (VPPCT™)
SlopeShield Plus SA is engineered with VaproShield's patent-pending Vapor Permeable Polymer Composite Technology (VPPCT™).

VPPCT™ is an advanced combination of polymer coatings and adhesive technology developed by VaproShield Research and Development creating a new class of roofing underlayment capable of being watertight, vapor permeable, foot traffic friendly and extremely durable.

SlopeShield Plus Self-Adhered's high drying capacity and black coloration (which absorbs heat from the sun when exposed during construction), accelerates the drying process of the underlying materials.

This combination helps to mitigate construction moisture which would otherwise be trapped by a non-permeable roofing underlayment.
Complete Roof and Wall Water Resistant, Vapor-Permeable Air Barrier System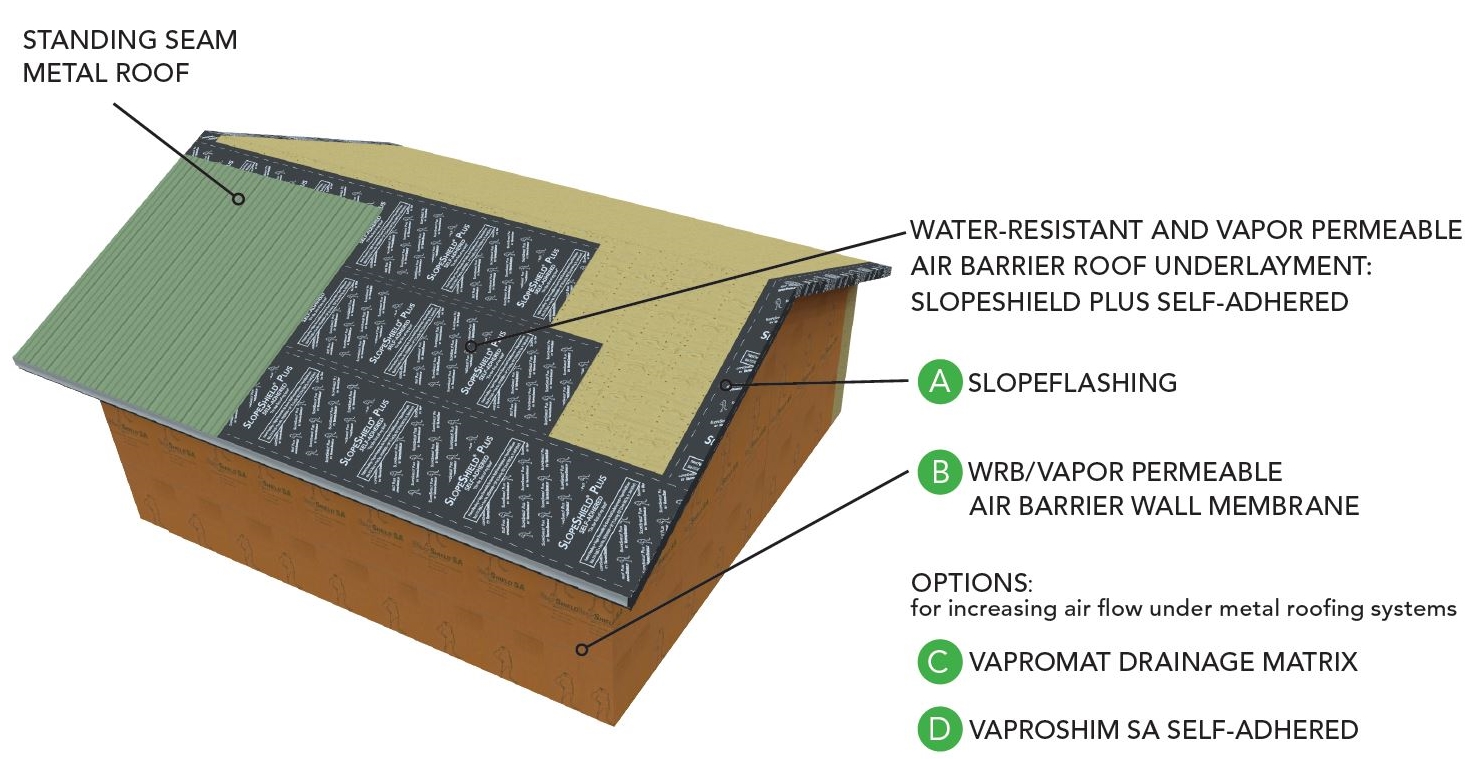 Flashing

Use SlopeFlashing™ -- pre-cut for easy installation handling--for eaves, hips, ridges, and valleys.

Roll Size: 19 2/3" x 102' (500mm x 31m), 167ft2 (15.5m2)

Roll Size: 29.5" x 102' (749mm x 31m), 255ft2 (23m2)

Drainage Matrix for Cedar Shingles/Shakes

Cedar Shingles/Shakes require a ventilated unimpeded vertical drainage cavity to be incorporated into the roofing underlayment installation. VaproMat accomplishes this and is available as a corresponding accessory.

VaproMat™
Hydrophobic filter fabric with polypropylene drainage matrix, installs over SlopeShield Plus Self-Adhered roof underlayment, available in two depths: 3mm, 7mm.

Building Envelope System

Self-Adhered WRB/Air Barrier Wall Membrane options: WrapShield SA Self-Adhered or RevealShield SA Self-Adhered for open joint cladding.
Compatible Roof Deck Substrates
Gypsum-based Roof Sheathing

Rigid Insulation

Concrete

Plywood

Cross Laminated Timber (CLT)

Nail Laminated Timber (NLT)

Dowel Laminated Timber (DLT)

Pre-painted Steel

Galvanized Metal

Aluminum (Painted/Mill Finish)

*For OSB and OSB factory-coated products

contact VaproShield Technical.