VaproBatten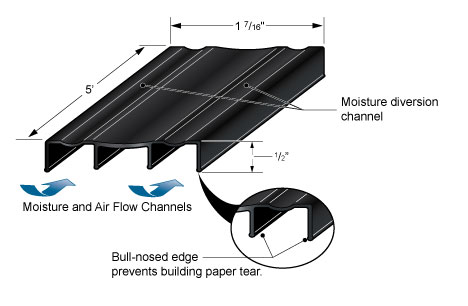 VaproBatten is a UV stable, breathable vinyl batten system for rain screen applications. Its unique and innovative design is a direct replacement for pressure treated plywood furring or treated lumber battens.
Drying Capacity
Unique formed air cavity allows unobstructed air flow, increasing drying speed in the drainage plane reducing moisture damage caused by mold, mildew, rot and corrosion.
Durability and Cost Effectiveness
Ships in 5' lengths for easy ground shipping and installation.
Will not rot, eliminating repair costs and preventing moisture related damage within the drainage plane.
Eliminates the need for stainless steel fasteners.
Bull-nose edges prevent membrane tearing or ripping upon application.
Fasteners are installed directly through VaproBatten into the structural elements regardless of weather conditions.
Environmental Sustainability
Is 100% recyclable supporting green building design.
| | |
| --- | --- |
| Easily create a rain screen design with VaproShield membranes and VaproBatten System. | VaproBatten can be installed over VaproShield membranes using conventional construction. |
Batten Accessories: VaproVent Strips
VaproVent Strips are available in two types:
VaproVent L Strip
VaproVent Hook Strip
| | |
| --- | --- |
| | |
| VaproVent L Strips are attached to the top and bottom of VaproBattens.They prevent insect invasion and provide maximum ventilation. | VaproVent Hook Strips are used with VaproBattens as a starter strip for vinyl and beveled siding applications, in place of the VaproVent L Strip at the bottom of the assembly. |
| | |
| Close-up: WrapShield using Rain Screen Design Components: VaproBatten and VaproVent Hook Strip | |