QUICK OVERVIEW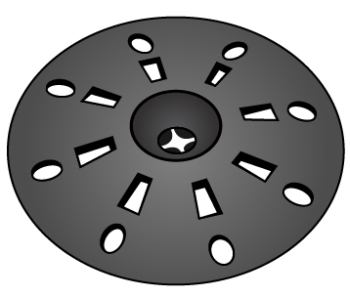 VaproCaps are 1¾ inch diameter preformed head caps with a center throat hole, sealing the membrane at fastener penetration. They are designed and tested to withstand wind loads and protect against water intrusion at screw penetrations. VaproCaps are made of 100% virgin polypropylene with a carbon black UV inhibitor.
VaproCaps have a low profile design and when installed correctly with screws driven straight and to the proper depth, will firmly seat and seal around the fastener penetration.
High density, impact resistant, plastic plates will not rust, are thermal resistant and tough.
Center-crossed choke hole creates tolerance fit when pre-assembled with properly sized bugle head screws (#6, #7, or #8).
Unique, round shape design with the outside circumference tapered flat, evenly distributes bearing load without any sharp edges or corners.
VaproCaps are required on all mechanically attached VaproShield Air Barrier systems except WrapShield RS Rain Screen.
| | |
| --- | --- |
| Center cup pressure designed to seal around screw penetration. | Use only corrosion resistant bugle head screws (#6, #7, or #8). |
Testing and Specifications
Testing
VaproCaps have been tested to ASTM E331 on various substrates, with simulated wind driven rain loads of approximately 60 mph for a period of two hours with no leakage.
Specifications

Round 1¾" diameter plastic plate, .050" to .060" gauge thick–tapered
Designed to work with corrosion resistant bugle head screws (#6, #7, or #8)
Washer fasteners/screws must be driven straight