QUICK OVERVIEW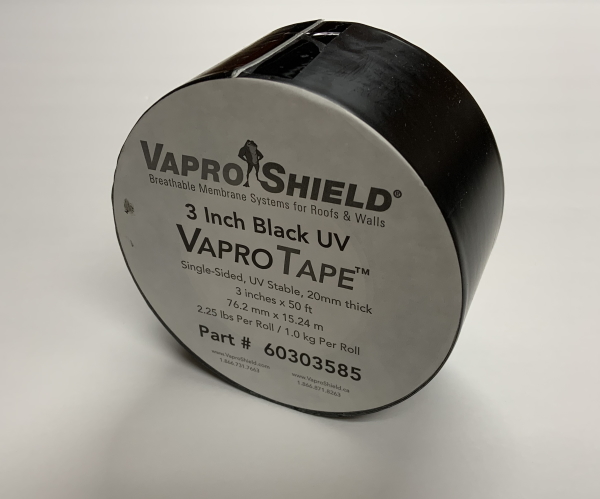 Single-sided black UV tape available in 2", 3", 4" widths.
No VOCs
No primer required
UV stable
Seals VaproShield membranes and flashings
Seals penetrations, fasteners and clips
Waterproof and airtight
All weather application from minus 20°F to 170°F (minus 29° – 77° C)
Flexible and easily conforms to various shapes
Overview
VaproTape is an aggressive butyl rubber adhesive sealing tape. It is singled-sided, UV stable, and black in color. Available in 2", 3", 4" widths.
BASIC USE
VaproTape is used to stop water egress or air penetration on multiple surfaces and materials.
MATERIALS
Polyolefin surface, transparent adhesive, white paper release liner.
Resources
Technical Overview
Compatibility
All VaproShield products, concrete, plywood, OSB, metal, curbs, vents, AC systems and roof penetrations. Contact VaproShield Technical – if you have additional compatibility questions.
PHYSICAL PROPERTIES

Property

Value

Color

Black

Ultra Violet Light Exposure

UV Resistant

Application Temperature

-20°F (-29°C) - 170°F (77°C)

Service Temperature

-70°F (-57°C) to 200°F (93°C)

Shelf Life

5 years
SIZES/PACKAGING

2"W (50.8mm) x 50' (15m)

3"W (76.2mm) x 50' (15m)

4"W (102mm) x 50' (15m)

Part No:

60302585

60303585

60304585

Roll Weight

1.5 lbs (0.68 kg)

2.25 lbs (1.0 kg)

3 lbs (1.4 kg)

Case

24 Rolls

16 Rolls

12 Rolls
TESTING DATA

Property

Standard

Result

Thickness

0.66 mm (26 mils)

Dry Tensile Strength

ASTM D882 Standard Test Method for Tensile Properties of Thin Plastic Sheeting

2.6 N/m (15 lbf/in)

Elongation

ASTM D882 Standard Test Method for Tensile Properties of Thin Plastic Sheeting

>700%

Water Vapor Transmission
Water Method

ASTM E96 Standard Test Methods for Water Vapor Transmission of Materials

<0.05 Perm (grain/h•ft2•inchHg
<0.35 g/ 24 hr•m2