LEED v4.1 Available Credits for All VaproShield Membranes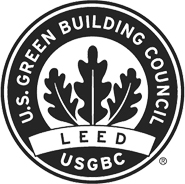 VaproShield products support efforts towards achieving LEED certification in the Energy & Atmosphere and Indoor Environmental categories, including LEED for New Construction & Major Renovations (NC), LEED for Core & Shell, LEED for Existing Buildings (EB) and LEED for Homes. Below is information pertaining to all VaproShield Membranes for the applicable categories for LEED accreditation pursuits:
1) Integrative Process [IP] Location and Transportation [LT] and Regional Priority [RP]
1 pt potential. VaproShield encourages this through pre-construction planning, for 'building envelope attributes.
2) Location and Transportation [LT] and Regional Priority [RP]
Varying pts depending on construction location: contact VaproShield Sustainability team or see Declare Label.
3) Energy and Atmosphere [EA]
Up to 18 pts minimum energy requirement prerequisite and performance points are achieved by providing a complete air barrier system.
Commissioning: Energy load reductions, Indoor Environmental Quality, and longevity of building components, which are required to satisfy the prerequisite if commissioning/verification is chosen as a path prior to DD. Envelope Commissioning may qualify for additional 2 pts, on top of a possible 4 pts via building energy simulation (enhanced commissioning), or complying with the prescriptive paths in ASHRAE 90.1-2010.
4) Indoor Environmental Quality [IEQ/EQ]
As part of an IAQ Management plan for the construction phase which protects buildings from moisture infiltration, VaproShield membrane systems can help provide an additional 1 pt.
Low-emitting Material Credits: up to 3 pts. All VaproShield membranes comply with emission requirements and VOC limits per SCAQMD Rule #1168 (as published Sept. 2017).
5) Awareness and Education [AE] and/or Innovation [IN]
Similar to LBC Certified projects in the past, VaproShield participates in projects which incorporate case study or educational outreach programs for their innovation, etc.. 1 pt. available.
6) Materials and Resources [MR] (for WrapShield SA only)
Declare label and zero Red List ingredients qualifies for up to 2 pts. for disclosure and healthy ingredient 'optimization.'
To discuss LEED, Living Building Challenge, Passive House, Net Zero, Zero Carbon, or any healthy, high performance building subjects, call VaproShield's Sustainability Department at: 1-866-731-7663, ext. 252
Living Building Challenge Declare Label
pdf Printer Friendly (464 KB) (PDF)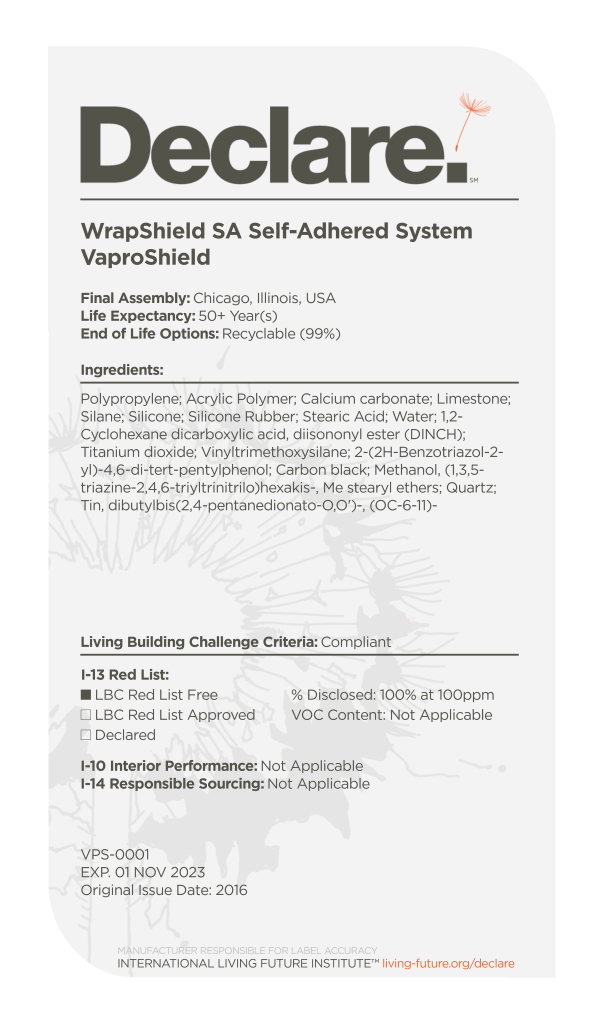 A primerless self-adhered water-resistive vapor-permeable air barrier sheet membrane system with liquid flashing
Sustainable Commitment
VaproShield believes in the pursuit of health and transparency of construction materials. Workers and occupants deserve to know what is going into their buildings so that they can make informed decisions about their own health. This is why WrapShield SA Self-Adhered System was the first water resistive barrier (WRB)/air barrier self-adhered sheet good membrane system to publish a Declare label.
VaproShield is honored to participate in the Living Building Challenge, a building certification program renowned for producing the "'greenest' [buildings] anywhere." Over the past few years VaproShield membranes have been regularly chosen to be part of buildings ready to take on the LBC standard. As a sponsor of the International Living Futures Institute and member of the LP50 (Living Products 50 collaboration), VaproShield is helping to further the discussion with AIA and their Architecture and Design (A&D) Material Pledge, while being a signatory to the LP50 commitment to Closing the Loop.
Living Building Challenge Projects
VaproShield Sustainability Commitment