WHO IS VAPROSHIELD
For over twenty years VaproShield has designed and manufactured high performance vapor permeable water resistive barriers (WRB) and air barrier (AB) membranes and accessories, creating a comprehensive approach to protecting the building envelope that leads to unprecedented savings.
---
INNOVATION LEADS TO SAVINGS
With material and labor, the VaproShield WRB/Air Barrier System offers up to 50% savings compared to major competitors. Since we have eliminated the labor intensive jobs of primer application and joint and corner taping/masking - VaproShield is the proven winner.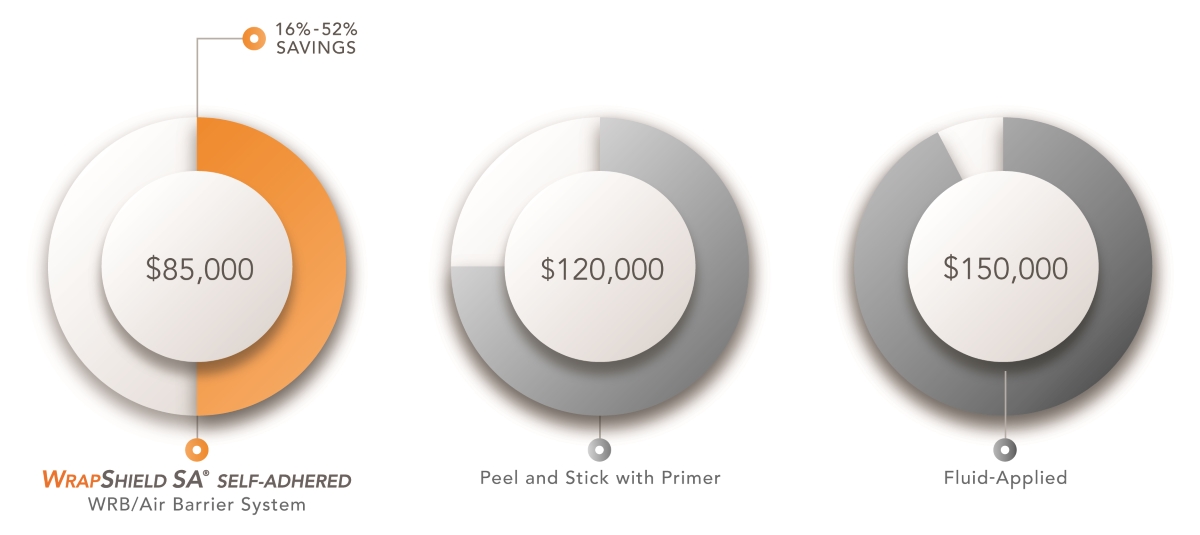 *Calculations based on 40,000 sq. ft., 200 windows, $60/hour labor rate
---
PUSHING THE ENVELOPE
Buildings are constantly battling moisture infiltration from occupants and Mother Nature - so allowing vapor to pass through your WRB/Air Barrier, but not air or water, mitigates moisture damage and saves energy for the life of the building.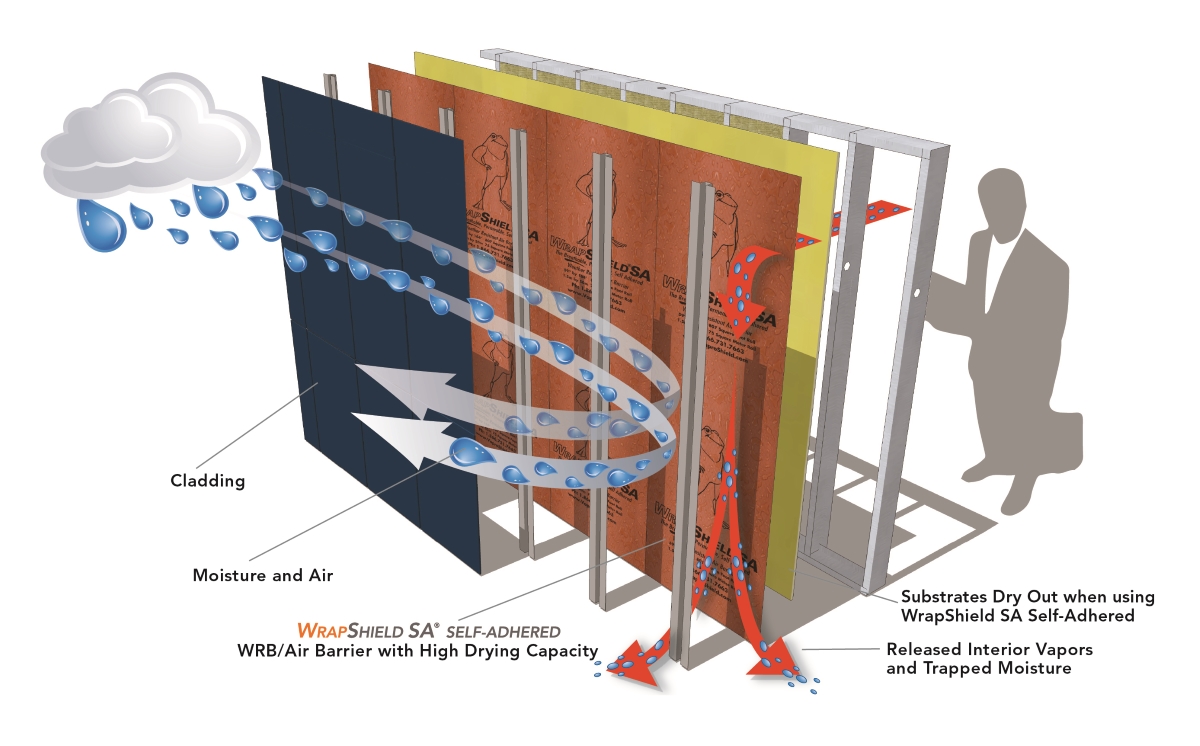 ---
AWARD-WINNING SIMPLIFIED WRB/AIR BARRIER SYSTEM
The VaproShield Air Barrier System was designed to maximize profitability plus minimize inventory and field training. Nearly 99% of installers reuse our products on their next jobs because managing only two SKU's in the field improves labor estimates and drastically reduces installation time.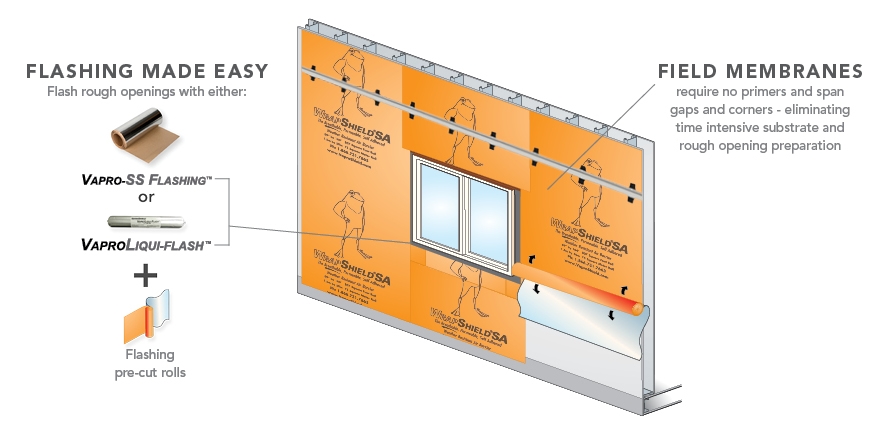 ---
MULTIPLE CLADDING, SUBSTRATES, INSULATION: ONE WRB/AIR BARRIER SOLUTION
VaproShield membranes work on virtually all substrates; gypsum, plywood, extruded/molded polystyrene insulation, concrete block, and mineral wool. Diverse cladding and multiple insulation materials — easy enough — VaproShield membranes offer proven compatibility.
Open Joint Facades
Fiber Cement
ACM

Rigid Insulation
Mineral Wool
Continuous Insulation

---
EXTREME DURABILITY, ALL CLIMATE CONSTRUCTION

Fully exposed [no cladding] VaproShield membranes have been proven durable in the most extreme conditions – hurricanes, arctic blasts and frigid northern temperatures. Noted as the most Phase Construction Friendly WRB/Air Barrier in the industry, VaproShield membranes can help keep your construction schedule on track. Easily installed in virtually all weather conditions, including below freezing temperatures.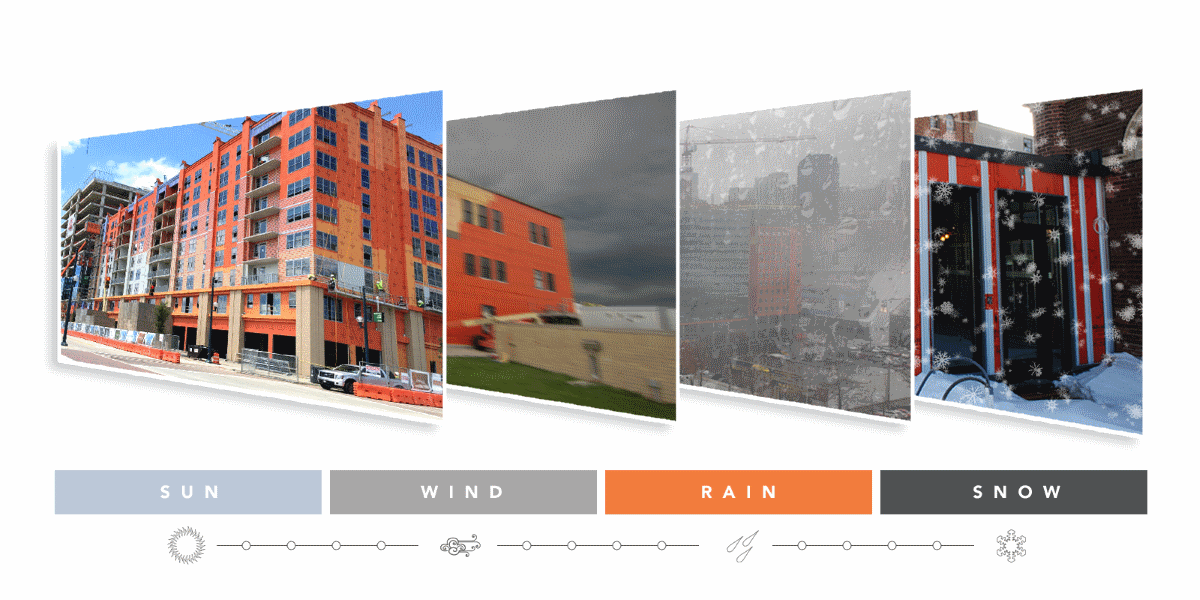 ---
VAPROSHIELD MEMBRANES MEET/EXCEED ALL INDUSTRY STANDARD TESTING
ASTM E2357 compliant in multiple assembles, Class A fire rating, 20 year material warranty, sustains 180 days UV and climate exposure.
NFPA 285 and ASTM E84

VaproShield membranes have been successfully included in numerous NFPA 285 assembly tests. It's important to understand that NFPA 285 is a full-scale, two-story, exterior wall assembly test, measuring fire characteristics of all the applicable building materials in the assembly not just a single component like the WRB. The ASTM E84 test measures the surface burning flame spread and smoke developed of an individual material. All VaproShield membranes are ASTM E84, Class A rated.
---
PROVEN PERFORMANCE ON PROJECTS LARGE & SMALL
VaproShield's high performance building envelope solutions work for all types of buildings and construction. We are proud to have installed millions of square feet for architects, contractors, consultants and installers in diverse markets and climates throughout the U.S., Canada, Mexico, South America and New Zealand.
We have had the privilege of working with the nation's biggest construction projects over the last decade like:
---
WHAT ABOUT THE FROG: BREATHABLE SKIN IS PERFECT
VaproShield membranes were inspired by a frog's permeable, breathable skin, so we have always been green. Our membranes contain zero VOC's and do not require toxic/flammable primers, making them safe to transport, handle and install. We were awarded the coveted Declare Label for the WrapShield SA Self-Adhered System, placing VaproShield at the forefront of the transparency movement.