Quick Overview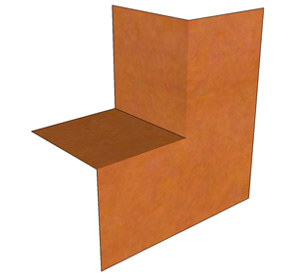 3D Factory Formed Corners are available in orange, are 3 dimensional and are 18" x 18" (457mm x 457mm).3D Factory Formed Corners are manufactured using our patented breathable membrane fabric. Each corner is formed using an ultra sonic welding process, eliminating weak joints compared to traditional heat welding which can cause problematic leaking
Drying Capacity:
3D Factory Formed Corners are constructed from our breathable membrane fabric offering protection against moisture intrusion and entrapment; before, during and after construction.
Regardless of wet weather conditions, 3D Factory Formed Corners can still be applied.
For use in non-air barrier applications
Durability and Cost Effectiveness
Reduces installation labor costs at least 50% by eliminating cut and measure mistakes.
Effective protection for skylights in addition to standard commercial and nail-flange windows or doors.
Compatibility
Compatible with most flashings, vinyl, wood and aluminum windows and doors.
Environmental Sustainability
Supports green building designs, all elements are 100% recyclable.