AC Hotel by Marriott
Products
WrapShield SA Self-Adhered
Approx. 40,000 sq.ft. of WrapShield SA Self-Adhered (orange) WRB/Air Barrier is being installed on the new AC Hotel by Marriott in Portland, Oregon.
---
PROJECT DESCRIPTION
Approximately 40,000 sq. ft. of WrapShield SA Self-Adhered Water Resistive Vapor Permeable Air Barrier Sheet Membrane was installed on the new 13-story AC Hotel by Marriott located in Portland, OR. While the AC Hotel brand has been recognized across Europe by savvy business and leisure travelers for its unique mixture of high design and urban amenity, the AC Portland marks one of the brand's important first steps into the US market. WrapShield SA Self-Adhered was crucial in making this new construction a success.
WrapShield SA Self-Adhered was installed over gypsum board and behind multiple cladding types including metal, glass and masonry to provide the building envelope with durable, breathable protection. Ideal for phrase construction, WrapShield SA Self-Adhered is entirely self-adhering, does not require primers and can be easily installed in even the harshest weather conditions. This versatility met the project's construction timeline and made installation easy despite the damp, variant climate of the Pacific Northwest. Installation crews are always safe when working with WrapShield SA Self-Adhered as the product is free of VOCs and contains no red list chemicals.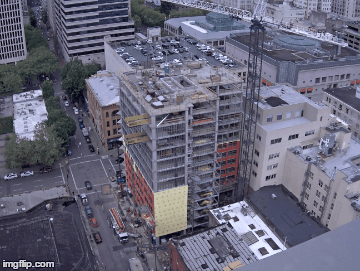 Twelve stories of orange WrapShield SA Self-Adhered WRB/Air Barrier installed in NINE working days!