Printer Friendly (PDF)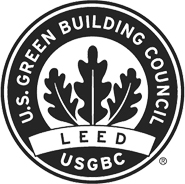 VaproShield products support efforts towards achieving LEED certification in the Energy & Atmosphere and Indoor Environmental categories, including LEED for New Construction & Major Renovations (NC), LEED for Core & Shell, LEED for Existing Buildings (EB) and LEED for Homes. Below is information pertaining to all VaproShield Membranes for the applicable categories for LEED accreditation pursuits:
Post-Consumer Recycled Content: 0% +/-
Pre-Consumer Recycled Content: 0% +/-
Recycled Content Information Source: Mfr.
Percent Compliant: 100% Recyclable
Harvest Distance: N/A or > 500 mi.
Manufacture Distance: N/A or > 500 mi.
Harvest/ Manufacture Location Info Source: Mfr.
VOC Content Adhesive: 0 g/l
VOC Content Membrane: 0%
VOC Content VaproBond: 80 g/l
VOC Content VaproLiqui-Flash: 30 g/l
If you have any additional questions regarding LEED, Living Building Challenge, Net Zero, or any other standard that we can help you achieve, please feel free to contact us directly at: 1-866-731-7663 option 5 or your local representative
Living Building Challenge Declare Label
Printer Friendly (PDF)

VaproShield is proud to announce the WrapShield SA Self-Adhered System has qualified for a Declare label. WrapShield SA Self-Adhered System is the first water resistive barrier (WRB)/air barrier self-adhered sheet good membrane system to earn a Declare label placing the system at the forefront of the transparency movement.
VaproShield is honored to participate in the Living Building Challenge, a building certification program renowned for producing the "'greenest' [buildings] anywhere." Over the past few years VaproShield membranes have been regularly chosen to be part of buildings ready to take on the LBC pursuit of certification.
WrapShield IT Integrated Tape, WrapShield SA Self-Adhered WRB/Air Barriers and WallShield IT Integrated Tape WRB do not contain any Red List Chemicals as per the rigorous standards set forth by the LBC. The Red List denotes any chemicals, materials, and elements known to pose a threat to human health and its environmental surroundings.1
From its inception, VaproShield has been committed to providing environmentally sensible, affordable, and easy-to-install products.
The Brock Environmental Center tapped VaproShield for their SlopeShield SA Self-Adhered Water Resistive Vapor Permeable Air Barrier Roof Underlayment to assist in their pursuit of becoming the first center in the state of Virginia to achieve Living Building Challenge certification. SlopeShield SA Self-Adhered helps this energy efficient initiative by having zero VOC's, easy installation and being free of Red List chemicals which meets the strict guidelines of the LBC. Slopeshield SA Self-Adhered, installed under 50-year zinc shingles, protects the roofing structure, adding to the building's energy efficiency.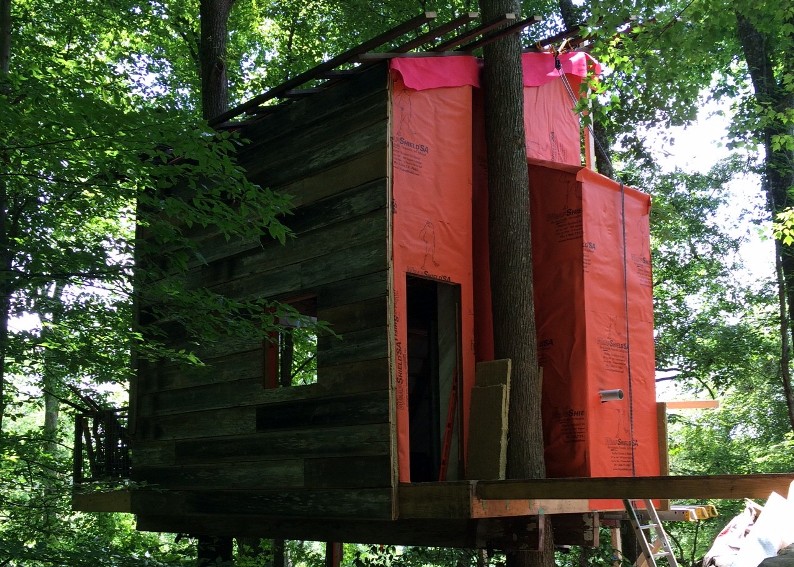 WrapShield IT Integrated Tape Water Resistive Vapor Permeable Air Barrier Membrane and SlopeShield Water Resistive Roof Underlayment are helping Treetop Hideaways, a luxury treehouse hotel located in north Georgia, to achieve Living Building Challenge Certification. WrapShield IT and SlopeShield were chosen because they contain no red list chemicals, improve indoor air quality, and lower energy consumption. The lodging features full amenities, as well as net-positive energy status, meaning more energy is produced than is utilized.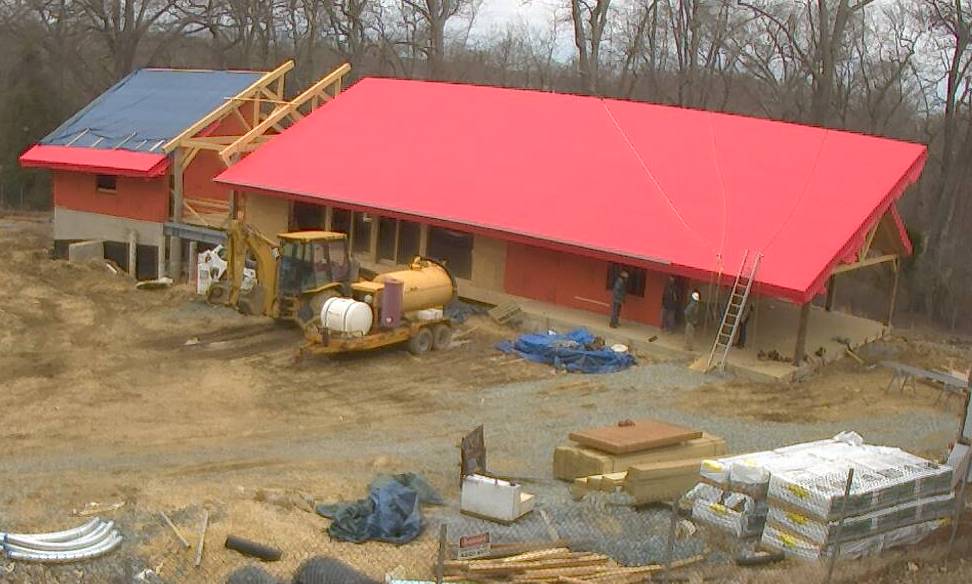 The Potomac Watershed Study Center is one of several other VaproShield projects seeking Living Building Challenge certification upon completion. With zero VOC's and no red list chemicals WrapShield SA Self-Adhered and SlopeShield SA Self-Adhered are environmentally-sound additions to the Potomac Watershed project.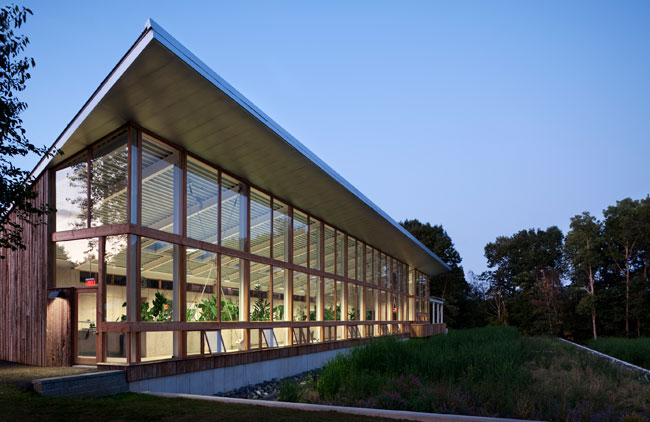 Photo courtesy Green Source
The Omega Institute for Holistic Studies trusted VaproShield's membranes to meet the Living Building Challenge's rigorous standards. Void of VOC's and all Living Building Challenge Red List chemicals, WallShield Water Resistive Vapor Permeable Membrane contributed to The Omega Center's renewable design. The Omega Center is one of a handful of projects nationwide to receive the highest level of certification from Living Building Challenge. VaproShield is a proud participant.
1 Source: "The Standard 2.1." ILFI. N.p., n.d. Web. 30 Apr. 2014.