| | |
| --- | --- |
| Modern mass timber buildings are constructed of engineered wood products, often manufactured from multiple layers of sawn lumber, attached to form a solid panel, beam, or column. | By forming solid wood sections, mass timber differs from the conventional, lightweight wood-framed construction that has long dominated the low-rise residential construction market in North America. |
| | |
| --- | --- |
| As of late, there has been a growing interest in using mass timber as a means to diversify the use of wood—a renewable resource—as a building material within mid-rise and high-rise structures. At the forefront of the mass timber movement is the relatively recent innovation of cross-laminated timber (CLT). | Recent CLT project, Candlewood Suites. CLT panels offer strength, rigidity, and dimensional stability, making them ideal for floor, wall, and roof applications. |
Multiple mass timber products can be used in the same building.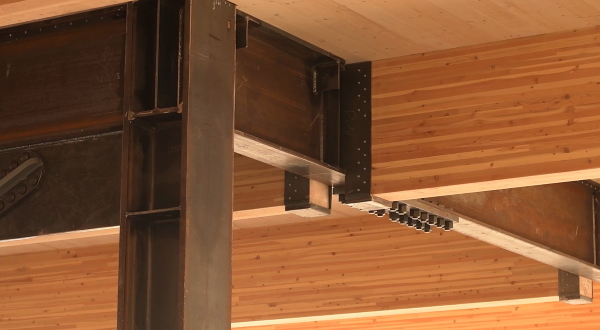 Mass timber construction, CLT floor supported by a GLT structure, First Tech Credit Union.
CLT, when used as an element of the building structure and/or the building enclosure, presents unique design and construction considerations. CLT panels are constructed of wood, a moisture sensitive material, that is slow to dry if wetted due to its hygric mass. Wetting for prolonged periods can result in dimensional changes, moisture damage, and microbial growth. As a result, keeping CLT products dry during construction and throughout the building's service life is critical. The speed at which CLT panels may be erected also creates unique field challenges where CLT panels are exposed to the elements for periods of time while awaiting cover.
VaproShield's self-adhered water-resistive barrier (WRB) and air barrier membranes and roof underlayment products offer a high-performance solution for the many unique construction and design considerations of CLT.
| | |
| --- | --- |
| VaproShield's sheet membranes are vapor permeable, simultaneously managing bulk water while allowing for some drying of underlying materials. The proprietary adhesive backing bonds directly to wood substrates, offering primerless adhesion for paralleling the speed of membrane installation with that of the CLT panel erection process. | WrapShield SA Self-Adhered WRB membrane applied over a CLT wall. |