Many companies talk about a healthy home as a new idea.
At VaproShield, we've always been green, since our products were inspired by a
frog's permeable breathable skin, we understand sustainability is more than just a buzzword.
Contact us to learn more about creating a healthy home
---
Unparalleled Moisture Protection for Your Home


A.

Windows Are The Most Vulnerable

A new Texas home suffered extensive moisture damage - "the windows were suspected to be a contributing factor" typically due to "inadequate weather barrier and window detailing."

B.

Insufficient Drainage in the Wall Cavity

An incorrectly installed stucco system caused massive deterioration and biological growth within 12 months.

Windows Require Proper Flashing

Proper detailing around windows requires a shingle overlap and high performance waterproof flashing material. VaproShield offers a complete system of flashing materials.

Rainscreen Drainage Cavity

By leaving a small air flow cavity behind the cladding, created by mesh or battens, residual water can drain away from your home. This is called rain screen design, a proven method to keep the wall cavity dry.
Home Owner Benefits
Reduce moisture-related problems (mold, mildew, rot) in wall cavities by allowing vapor and moisture to escape instead of being trapped in the wall/roof
Increase healthy airflow throughout the home helping to reduce allergens
Save energy by installing a continuous air barrier
around the home (roof and walls)
Commercial-grade product (millions of square feet installed) with proven success in all climates and conditions

When homeowners opt for open-joint veneers, the exposure to sun and rain behind the joints is inevitable.

RevealShield SA offers all the advantages of WrapShield SA plus the added benefit of long term UV stability.
Breathable and Air Tight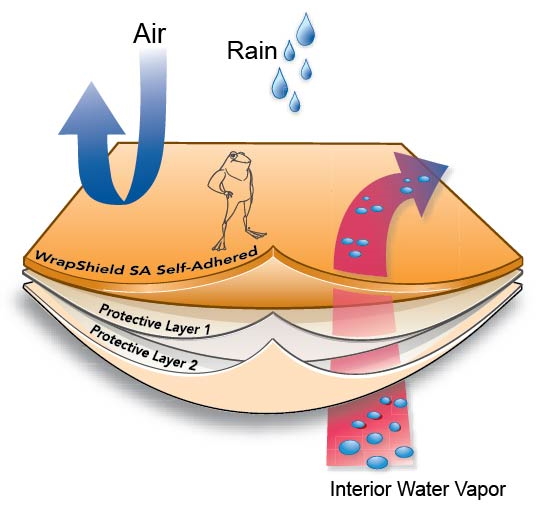 Similar to Gore-Tex® WrapShield SA Self-Adhered stops air leakage and provides exceptional water holdout and breathability.
Healthy Home Exterior Wall Cavity Design