Complete Building Envelope System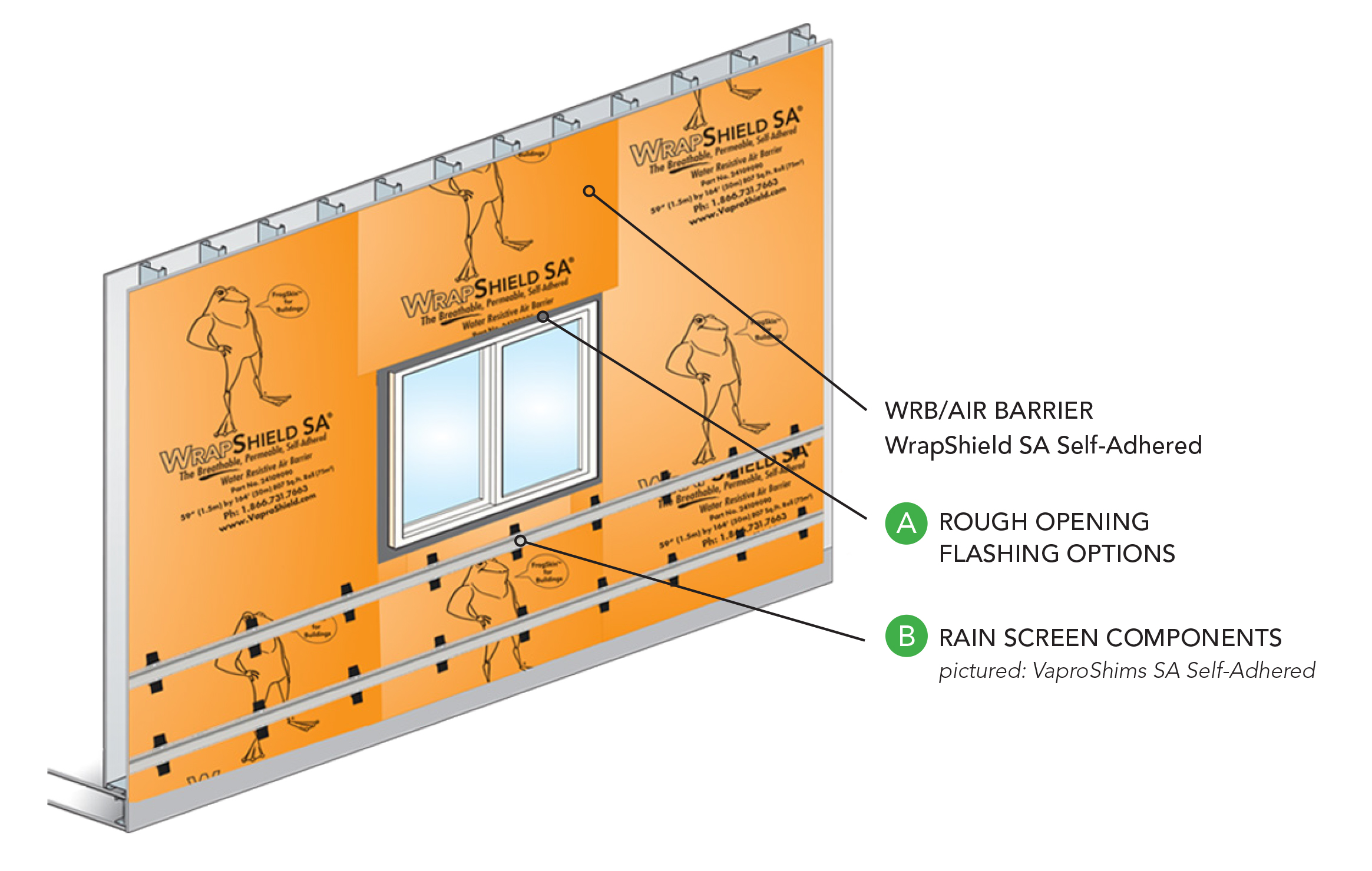 WrapShield SA Self-Adhered WRB/Air Barrier membrane protects the building envelope by allowing vapor pass through (breathable) but not air or liquid water, mitigating costly moisture damage and saving energy for the life of the building.
Basic Use
WrapShield SA Self-Adhered is installed above grade behind rain screen wall cladding assemblies.
Materials
WrapShield SA Self-Adhered consists of multiple layers of spun-bonded polypropylene fabric with a proprietary, fully self-adhered pressure sensitive adhesive that allows for initial re-positioning prior to rolling.
Superior Building Envelope Protection
High drying capacity (50 perms) allows building materials to dry-out, reducing the risk of damage from moisture infiltration, mold, mildew and rot for the life of the building.
Air tight barrier

– stops air infiltration as per the ASTM 2357 Air Barrier assembly test, ABAA approved.

Consistent millage thickness

– factory made rolled good ensures consistent properties and performance.

Fully tested building envelope system – rough opening flashing accessories eliminate the need for untested outside components.
Emits zero VOCs, contains no Red List Chemicals, ensuring crew safety and a healthy building.
Warranty - 20 year material warranty is available
Cost Advantage
Fully bonds without primer to most substrates (excluding OSB), eliminating costly delays due to primer application restrictions
Applies directly to a clean and dry to-the-touch substrate, no additional substrate preparation is required
Reduces contractor liability by using fully tested VaproShield flashing system: single source membranes, flashings and sealants
Long-term durability, standard 20 year material warranty
Optimizes substrate coverage, using 95% net of sheet good
Phase Construction Friendly
Simple installation – requires only basic tools, no specialized mobilizations or protection gear are required.
Ease of installation - vertical or horizontal application
Apply to clean and dry-to-the-touch "as new" substrates, no additional preparation is required.
Spans substrate joint gaps up to 7/8" (22.2mm), eliminates need for tapes and fillers.
Installs in below freezing temperatures 20°F (-6

°

C)
Sustains up to 180 days UV and climate exposure prior to cladding installation.
Exterior Gypsum Sheathing

Rigid Insulation

Precast Concrete

Concrete Block

Cast-in-place Concrete

Plywood

Pre-painted Steel

Galvanized Metal

Aluminum (Painted/Mill Finish)

Anodized Aluminum

Vinyl Window and Door Frames

Fiberglass Window and Door Frames
Technical Data and Environmental
Tested to industry standards for Weather Resistive Barriers and approved by ABAA to meet requirements for Air Barriers.
WrapShield SA Self-Adhered emits zero VOCs and is void of all Living Building Challenge Red List chemicals, making the membrane safe for work crews and occupants for the life of the building.
Declare Label
WrapShield SA Self-Adhered System has earned the Declare Label, placing VaproShield at the forefront of the transparency movement.
LEED
WrapShield SA Self-Adhered membrane contributes to Environmental Quality ("EQ") credit 4.1: Low Emitting Materials: Adhesives & Sealants, under United States Green Building Council's Rating System for New Construction and Major Renovations (LEED-NC), version 2.2, core and shell (LEED-CS), version 2.0.
Vertical or Horizontal Application