Overview pdf English (752 KB) / Español (PDF)
Product Offering
RevealShield SA Self-Adhered is a black UV stable, highly vapor permeable Water Resistive Barrier (WRB) Air Barrier (AB) sheet membrane for open joint rain screen cladding systems.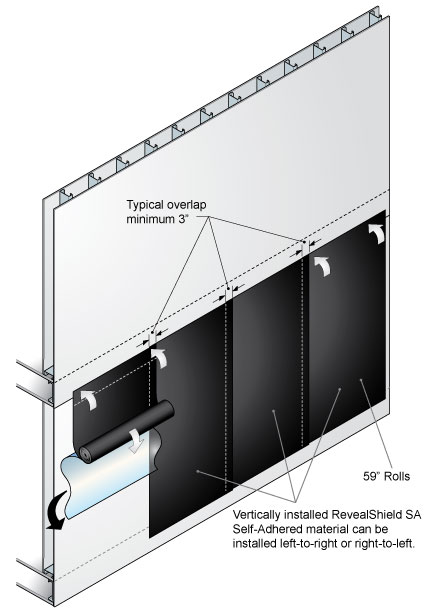 Vertical Installation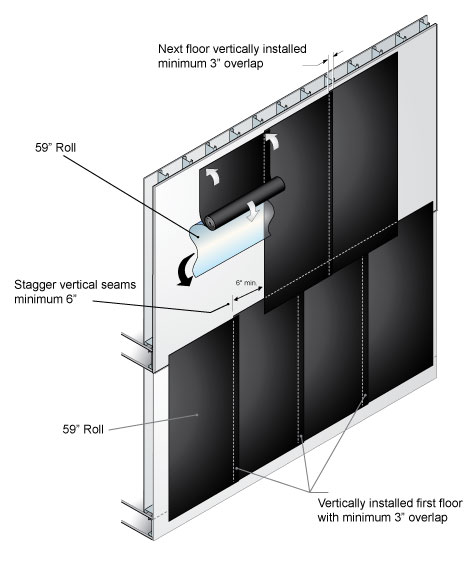 Multi Floor Vertical Overlap
Open Joint Application
Installs as a single layer WRB / AB black membrane system
Use with up to 2" wide open joint rain screen cladding
Extremely UV stable membrane with 20 year warranty
Uniquely suited for non-open joint cladding requiring advanced UV protection such as; perforated panels, reclaimed wood and special facades.
Building Envelope Protection
Resists bulk water infltration
Allows building materials to dry out
High drying capacity reduces the risk of damage from moisture infiltration, mold, mildew and rot
Cost Advantage
Reduces contractor liability by using fully tested VaproShield system: single source membranes, flashings and sealants
Installs in temperatures as low as 20°F (-6°C)
No costly delays due to primers
Phase Construction Friendly
Applicable for all climates
Non-directional horizontal or vertical installation
No special installation equipment required
Sustains 12 months (maximum) UV & Climate exposure prior to cladding installation.
Best practice recommendation is to cover RevealShield SA Self-Adhered with permanent cladding as soon as practical.
Substrate Information
The substrate condition is crucial to the adhesion performance of any adhesive membrane.
Substrates must be clean and free of any contaminants.
Substrate surface must be dry to the touch with the ambient temperature above 20°F.
RevealShield SA Self-Adhered can be applied to a wide variety of sheathing substrates:
GlasRoc • DensGlass Gold • Most rigid insulation • Pre-painted steel • Precast concrete • Concrete block • Plywood • Aluminum (painted or mill finish) • Cast-in-place concrete • Galvanized metal • Rigid vinyl • Steel • Anodized Aluminum
Energy Efficiency
Easily creates a continuous air barrier system and transitions when used with VaproShield accessories
Reduces energy consumption when used with VaproShield's Air Barrier Systems approach
Environmental Sustainability
Emits Zero VOC's; eliminating exposure to harmful and volatile chemicals
Contributes to LEED points in Indoor Environmental Quality and Energy & Atmosphere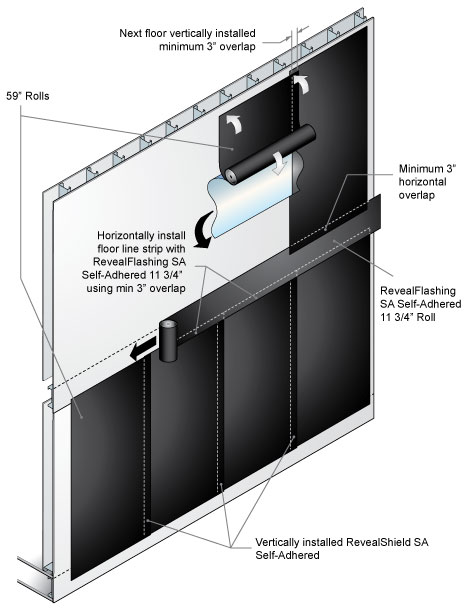 Vertical Installation Horizontal Floor Line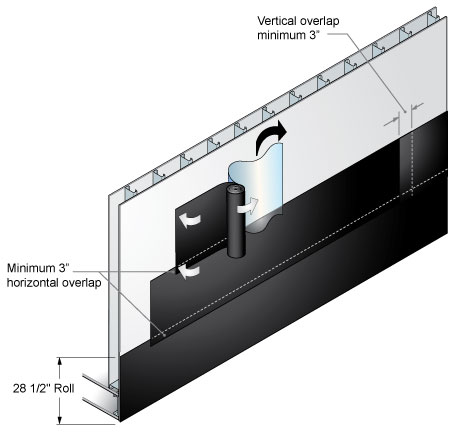 Horizontal Installation