pdf Printer Friendly (1.26 MB) (PDF)
Product Offering

WrapShield RS Rain Screen is a highly vapor permeable Water Resistive Barrier (WRB) and Air Barrier (AB) membrane with a built-in rain screen drainage matrix and integrated tape at the horizontal seams.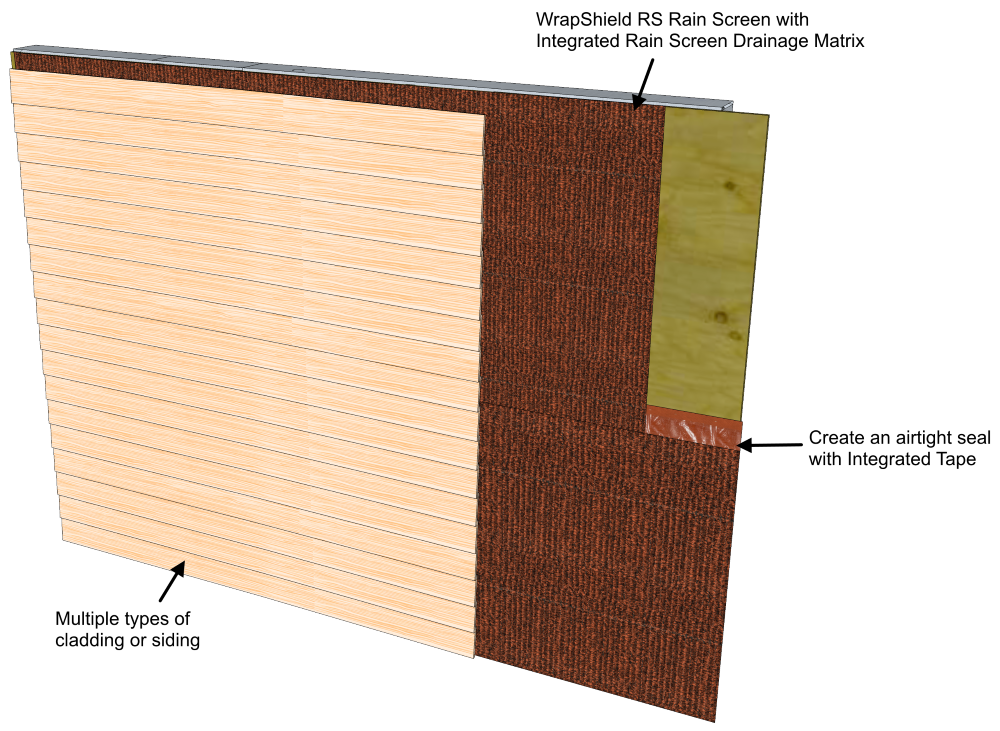 Reduce the incidence of moisture related damage with WrapShield RS behind conventional siding. The drainage matrix does not disrupt the level plane needed for siding, trim and window installation.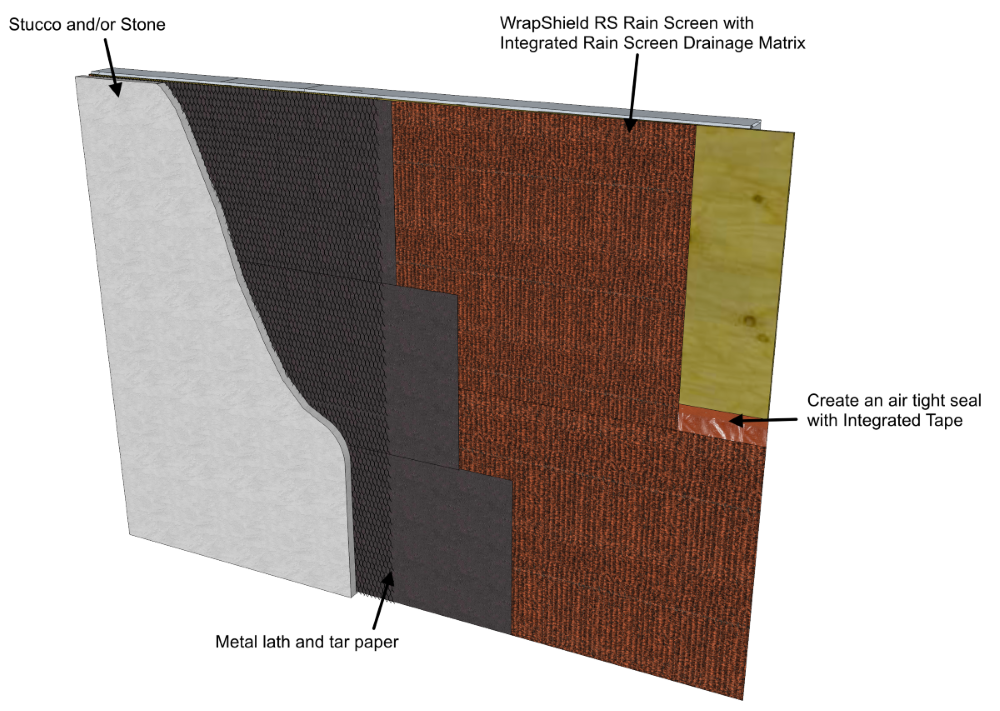 Create an essential drainage matrix behind stucco by installing the cost effective WrapShield RS. No change to design or installation practices is required.
Built-in Rain Screen Drainage Matrix
High performance matrix maintains unimpeded vertical drainage plane
Rain screen cavity increases drying capacity of building envelope
Multiple depth drainage matrix options: 3mm or 7mm
3mm matrix creates minimal rain screen cavity, facilitating conventional installation of siding, trim, and windows
7mm matrix offers enhanced drainage performance for code and/or more demanding applications
Cost and Labor Savings
One step installation of WRB and rain screen cavity reduces installation time
Innovative integrated tape and horizontal lap guides ensure proper weatherboard installation
Factory installed integrated tape and fully-tested accessories reduce contractor liability and take the guesswork out of product selection
Single source savings eliminates purchase of additional tapes or rain screen components
Can be used as part of an air barrier system reducing energy use for the life of the building
Phase Construction Friendly
Install year round in all climates, no construction setbacks
No special equipment required
Sustains up to 180 days of exposure before cladding installation
Environmental Sustainability and Durability
Emits Zero VOC's, eliminates exposure to harmful chemicals
Contributes to LEED points
Contributes to the lifelong health and energy efficiency of the building
Guaranteed long-term durability with standard 20 year material warranty
Sealing Horizontal Joints with Integrated Tape
| | | |
| --- | --- | --- |
| | | |
| Factory-installed integrated tape ensures accurate installation | Pulling the release film and smoothing with hand pressure creates an airtight seal. | Now, the field membrane upper and lower courses are installed with the proper water shedding shingle effect. |