The Problem: Mother Nature Rules

The Solution: VaproShield Membranes Endure
HIGH WINDS
VaproShield membranes have resisted the intense winds of multiple hurricanes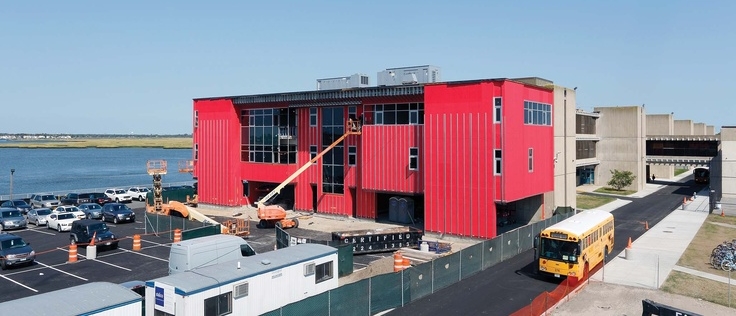 WrapShield SA endured the full force of Hurricane Sandy in 2012. When the hurricane subsided, the WrapShield SA Self-Adhered was left entirely intact on Long Beach High School.
---
HIGH PERFORMANCE IN EXTREME CLIMATES
VaproShield membranes have withstood relentless Arctic winds, frigid Minnesota winters and volatile East coast weather
Schmidt Brewery, St. Paul Minnesota

WrapShield SA Self-Adhered was the WRB of choice for Schmidt Brewery so they could keep working through the harsh Minnesota winter.
Norton Sound Hospital, Nome, Alaska


The extreme cold of Nome would have not allowed use of primers, but WrapShield SA Self-Adhered bonded directly to the EPS foam substrate, allowing the install team to maintain the aggressive project schedule.
NOAA, Barrow, Alaska

NOAA Research Facility located in Barrow, Alaska located above the Arctic Circle is the northernmost city in the U.S. Only 120 days a year is the temperature above freezing, making WrapShield the perfect choice as a WRB/Air Barrier.
Eleven55 Ripley, Silver Springs, Maryland

WrapShield SA Self-Adhered was an in-process replacement for a failing fluid-applied air barrier that was unable to withstand Maryland's cold temperatures and rainy weather. The project was featured in "Breaking the Weather Barrier" featured in Durablity and Design Magazine.
---
SEASONAL ENDURANCE
Watch as fully exposed WrapShield SA Self-Adhered withstands five months of seasonal changes without cladding.
---
Learn more: Contact Us or Find a Rep for more information