Printer Friendly pdf English (1.19 MB) / pdf Español (1.34 MB) / pdf Français (1.27 MB) (PDF)
Product Offering
VaproLiqui-Flash is a liquid applied Waterproof Flashing material for window and door interfaces. It is designed for use with VaproShield Sheet Membranes in Air Barrier and Weather Resistive Barrier applications.
VaproLiqui-Flash is a unique material formulated to bond without primers to VaproShield membranes and most common wall substrates forming a monolithic, waterproof surface while remaining permeable to water vapor. It allows underlying moisture to escape to the exterior, reducing the potential for mold and decay that is often associated with non-permeable flashings.
Benefits
Allows same day installation of windows and doors
Bonds directly to damp or dry surfaces and cures under a variety of weather conditions
Skins-over in 30 minutes and dries in 4 hours at 70°F (21°C) and 50% relative humidity
Suitable for all climates and weather conditions
Produces an opaque membrane when installed at the recommended 12 15 wet mils simplifying inspection and quality control
May be exposed to weather for up to 6 months without compromising performance
Single component formulation
No shrinkage. No staining. No yellowing.
Breathable – allows damp surface to dry
Will not support mold growth
Non-corrosive and adds self-sealing properties to fastener penetrations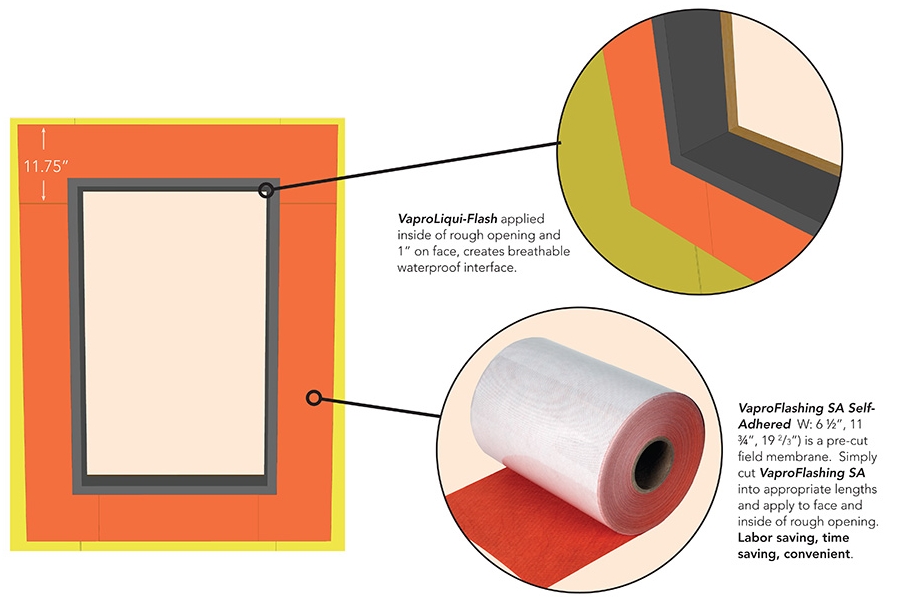 Composition
Solvent free. Isocyanate free. Complies with all VOC regulations. STPE provides superior long term adhesion, crack bridging and weathering characteristics. Meets IITS-0230C and ASTM-C-920.
Compatibility
Appropriate for vertical or horizontal above-grade applications to concrete, masonry, natural stone, structural sheathing, architectural metal panels, painted metals, glass, PVC, FRP, EPDM, all VaproShield Weather Resistive Barrier and Air Barrier membranes, and most other building materials.
Adhesion
Adheres to most common building materials without priming to produce a durable, weather-tight seal, which is not subject to tearing or displacement when subjected to wind loads during construction.
Installation
Surface and ambient temperatures must be above 35° and below 100°F (2° to 38°C) for application.
Cured service temperatures: -50° to 350°F (-45° to 175°C)
Gun-able 20 oz. (567 g) sausages
Easily spreads and trowels into place
See VaproLiqui-Flash Installation Instructions for Best Practice Installation Sequence
VOC Compliance
VaproLiqui-Flash is compliant with the following national, state and district VOC regulations:
US Environmental Protection Agency
California Air Resources Board SCM Districts
South Coast Air Quality Management District
Maricopa County, AZ
Northeast Ozone Transport Commission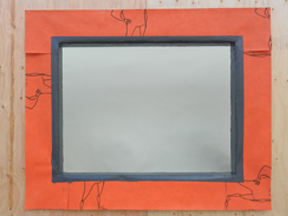 WrapFlashing SA Self-Adhered combined with VaproLiqui-Flash allows same day installation of windows and doors.